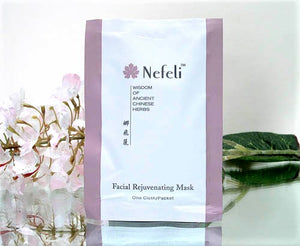 Daily regime:
For daily maintenance, use 1 to 2 times per week as per the diagram on the box. Ideally, it should be used before Nefeli skincare creams or makeup to obtain the best results. Suitable for all skin types.
"As seen on QVC"
Nefeli's multiple effect Instant Facial Rejuvenating Mask, saturated with rich herbal healing essences, is the ultimate comfort and relaxation for your face. Treasured by many, it is known as the "Saturday Night Mask" and the "Wedding Day Mask". This mask works great on all skin types, skin conditions and age groups. Perfect for those who need an instant "face-lift".

How does it work?

Superior anti-aging Chinese herbs work together to ensure the skin is saturated with healing nutrients. The appearance of fine lines and wrinkles is diminished as the herbs' healing powers instantly hydrate, firm and lift the skin.

Who needs it?

The mask works great on all skin types, skin conditions and age groups. Perfect for those who need an instant facial rejuvenation, "face-lift". It brightens the skin's tone and overall complexion and re-sculpts the facial contours for a dramatic youthful and radiant look.

4 packets (each packet contains one mask) included.
Benefits:
Instantly hydrates, firms, lifts and diminishes the appearance of sagging skin, fine lines, and wrinkles while brightening skin tone
Resculpts the look of facial contours and sweeps away the dull, tired complexion leaving the face radiant and supple
Works to rescue, repair and soothe sun-damaged, sensitive or irritated skin

Ingredients:
Superior legendary Chinese healing herbs for facial rejuvenation and beauty selected for this formula: Pearl, Ginseng Root, Ganoderma, Atractylodis, Licorice Root, Winter Melon, Tremella, Rhodiola Root, Angelica Sinensis


Ginseng
Wrinkle Reduction - Researchers from Seoul National University in 2009 published a study in the Journal of Medicinal Food that examined the effect of red ginseng on the facial skin and the study demonstrated that ginseng significantly increased collagen production and reduced facial wrinkles.
Pearl
Scientific research has found that pearl nacre, which is the material made of pearl, can enhance regeneration of fibroblasts and also helped collagen - the main structural protein in the skin - regenerate itself. Research confirms the well known traditional wisdom that pearl nacre can increase skin regeneration, thus help improve skin tone and promote youthful-looking skin.  It shows that pearl nacre does this by increasing collagen and other extracellular matrix production and by increasing cellular communication.  
Rhodiola
Studies show how this can enhance mental and physical performance but recent studies also show they can be very effective in restoring skin and maintaining their youthful looks. As an antioxidant, it's believed to be very effective in ridding our body of toxins and free radicals which effect how our skin looks and how healthy it can be. It is becoming more widely accepted in Europe and the USA as a powerful anti-aging, anti-stress herbal.