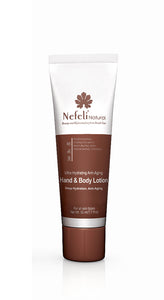 Description:
Ultra Hydrating Anti-Aging Body & Hand Lotion. SOD, vitamins in natural forms...these are just some of the benefits our natural body lotion delivers. Anti-aging does not stop at our faces.
Promoting skin's inborn ability to fight to age, this herbal infused lotion hydrates and revitalizes while reducing signs of wrinkles, dark spots, and other aging signs. Unlock the adaptogenic power for beauty and rejuvenation from head to toe and inside-out, sustained!
Some of the special healing herbs used in this formula: Goji Berry, Jujube Fruit, Sunflower.


Net Wt. 1.7 oz/50ml