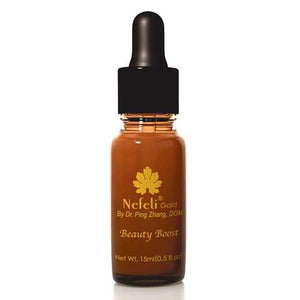 Daily regime:
Gently pat the serum all over clean face day and/or night. Wait for the serum to dry - do not rinse off. Follow with Nefeli day or night cream.
Description:

Power-packed with the most exotic and finest grade ancient Chinese herbs for the skin to feast upon, this revolutionary natural herbal concentrate promotes a younger and youthful look. Beauty boost firms and lifts the appearance of facial puffiness and sagging skin, reduces the vision of fine lines and wrinkles, thickens the look of eyebrows and improves the lengthy appearance of eyelashes. Crafted with an ancient natural fermented process, this breakthrough herbal concentrate is instantly absorbed by the skin with dramatic, immediate and noticeable results.
Benefits:
Awakens the skin's natural beauty
Releases healing energy that bring renewed life to your skin
Instant, dramatic and noticeable results

Ingredients:
Contains the following powerful skin beauty promoting herbs: Ginseng Root(Panax Ginseng), Tremella (Tremellae Fuciformis), Go Ji Berry (Lycium Barbarum), Notoginseng Root(Panax Notoginseng)
Ginseng
Wrinkle Reduction - Researchers from Seoul National University in 2009 published a study in the Journal of Medicinal Food that examined the effect of red ginseng on the facial skin and the study demonstrated that ginseng significantly increased collagen production and reduced facial wrinkles.
Goji Berry
Goji berries are relatively high in antioxidants and there have been studies that have found that antioxidants put directly onto the skin help to protect it from free-radical damage and thus protect against signs of skin aging.