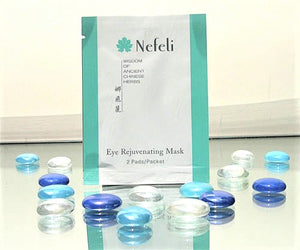 Daily regime:
For daily maintenance, use 1 to 2 times per week as per the diagram on the box. Use before Nefeli Essential Eye Care Cream and makeup to obtain the most intense and immediate beauty effects. Suitable for all skin types.

Nefeli's Instant Eye Rejuvenating Mask is based on a Chinese secret beauty formula. Combined with cutting edge technology, this formula comes to the rescue of the skin's urgent needs around the eyes. Ideal for dry, sensitive skin, eye wrinkles, fine lines, eye bags, and sagging skin.

How does it work?

An elite line of ancient Chinese eye rejuvenating herbs work together to take care of all eye area concerns, including dry, sensitive, wrinkled skin around the eyes, eye bags, sagging and dark circles. It instantly lifts, firms and diminishes the appearance of sagging, bags, fine lines, and dark circles.

Who needs it?

Anyone with urgent skin needs around the eyes such as dry sensitive skin, fine lines and wrinkles, eye puffiness and bags and/or dark circles. Use this mask at home as an instant holistic herbal "eye lift," without painful injections.

6 packets (each packet containing 2 eye masks) included.
Benefits:
Instantly lift, firm and diminish the appearance of sagging skin, bags, fine lines, and dark circles

Ingredients:
Natural eye rejuvenating and beautifying herbs used in this formula: Ginseng Root, Ivy, Green Tea, Ganoderma, Pueraria Root, Carthamus


Ginseng
Wrinkle Reduction - Researchers from Seoul National University in 2009 published a study in the Journal of Medicinal Food that examined the effect of red ginseng on the facial skin and the study demonstrated that ginseng significantly increased collagen production and reduced facial wrinkles.
Pearl
Scientific research has found that pearl nacre, which is the material made of pearl, can enhance regeneration of fibroblasts and also helped collagen - the main structural protein in the skin - regenerate itself. Research confirms the well known traditional wisdom that pearl nacre can increase skin regeneration, thus help improve skin tone and promote youthful-looking skin.  It shows that pearl nacre does this by increasing collagen and other extracellular matrix production and by increasing cellular communication.