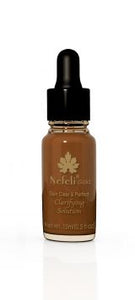 Daily regime:
Cleanse: Wash with Clarifying Wash every morning and evening. Gently massage over face and rinse off with water.
Tone: After cleansing, hydrate and lift with Pearl and Rose Toning Water. Apply toning water to face and neck with a cotton ball.
Protect, Moisturize, Repair: in the morning and evening with Clarifying Moisturizer.
Extra Care: Apply Clarifying Solution on clean skin on affected area in the morning and/or evening. Follow with Clarifying Moisturizer.
History:

Powered by natural herbals, this potent and effective collection diminishes the appearance of blemishes, dark spots, dull complexion, and large pores and calms irritation in as little as 2-3 days by addressing the root cause.
Ancient Chinese sages viewed skin impurities and blemishes as a sign of toxic heat lodged in the skin's surface. To address and prevent these unsightly looks, they used heat-clearing and detoxifying natural remedies.

This three-century-old original formula passed down through generations revolutionized skincare then, much the same as it does today. No longer a secret to treating the privileged few, this formula, advanced with modern technology, works to minimize the appearance of acne marks, blemishes, sun damage, and irritated skin as well as the look of enlarged pores and blackheads. It detoxifies and balances leaving the skin feeling refreshingly clean and looking clear and radiant at all times. Some of the special healing herbs used in this formula: Safflower, Ginseng, Scutulleria.