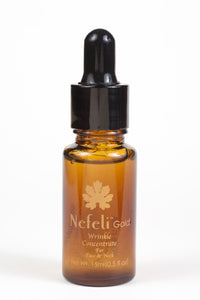 Daily regime:
"A Miracle from the Old Herb Pot" 

What secret kept the hands of the ancient Ginseng villagers wrinkle free? What special concoction made solely for the last empress of China kept her skin looking ageless?

Super anti-oxidants, amino acids and vitamins? You bet!... And lots of them!!! But more importantly, the healing energy and synergistic beauty embedded in this unique herbal concentrate.

No need to travel back hundreds of years to get beautiful skin. Nefeli herbalists have made these time-tested secrets available to you - right here and now!

Wrinkle Concentrate replenishes and renews your skin. It leaves you looking younger, youthful, and more vibrant. Visible signs of fine lines and stubborn wrinkles diminish as your face and neck absorb this amazing formula.

Combined with modern science and the best of nature, this anti-wrinkle serum is specially formulated to help boost your skin's beauty and vitality naturally from the inside out.

Net Wt. 15ml (0.5 fl. oz)
Benefits:
Healing energy formulas fight the aging process
Your skin is more smooth, youthful and more vibrant
Ingredients:
Pearl
Scientific research have found that pearl nacre, which is the material made of pearl, can enhance regeneration of fibroblasts and also helped collagen - the main structural protein in the skin - regenerate itself. Research confirms the well known traditional wisdom that pearl nacre can increase skin regeneration, thus help improve skin tone and promote youthful-looking skin.  It shows that pearl nacre does this by increasing collagen and other extracellular matrix production and by increasing cellular communication.  
Ginseng
Wrinkle Reduction - Researchers from Seoul National University in 2009 published a study in the Journal of Medicinal Food which examined the effect of red ginseng on the facial skin and the study demonstrated that ginseng significantly increased collagen production and reduced facial wrinkles.