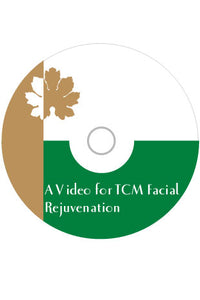 Total of 4 DVDs are approved for - 17 NCCAOM, 12 FL  CEUs
Disk 1 covers basic TCM theory, five phases, and zang fu with an emphasis on qi functions and pathologies that affect the face. Some of the source texts are briefly discussed. The rest of the Disk 1 concentrates on the description of acupoints that can be used in facial rejuvenation.
Disk 2 continues the discussion of TCM diagnosis, acupoints selection, and treatment technique for various conditions such as bags under the eyes and drooping eyelid. This includes a discussion of ear acupoints, massage techniques, herbs, and foods for facial applications. The author also discusses various types of skin such as dry, oily, or prone to allergic reaction and their impact on therapy. Disk 2 ends with a demonstration of qi gong exercises germane to facial rejuvenation.
Disk 3 includes a review section and questions that are to be answered and returned to obtain the ten CEUs offered (applicable to NCCAOM certification only). It continues with a discussion of the use of author's herbals, herbs and their use, and a brief history of the Chinese source texts. The DVD continues with advanced topics such as specific point applications; for example, points to improve collagen production. The scene then switches to a group discussion around a treatment table where Ping Zang demonstrates treatments for conditions including sagging of the face and darkened complexion. It concludes with the author discussing the application of flower essences.
Disk 4, the final disk, is a hands-on reference for the application of TCM facial rejuvenation techniques. It shows a comprehensive TCM facial lift protocol with the application of the author's TCM herbals. It finishes with a treatment for eye bags and dark circles under the eyes.
Return Policy: Non Refundable
Test questionairre is included with the DVD set. To earn the CEUs, please send back question answers (by fax, mail or email) and given satisfactory result, you will recieve in the mail a certificate of CEUs.