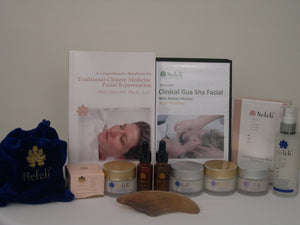 For all professionals - acupuncturists, estheticians, spa professionals and more - who practice facial rejuvenation.
Sagging skin, wrinkles, age spots or breakouts? When everything fails, you need 'heavy lifting' action. Go with Nefeli Total Beauty Management System: Natural Herbal Infusion with Gua Sha Protocol from Dr. Ping Zhang, DOM, the creator of Gua Sha Facial - an alternative anti-aging and detox protocol to acupuncture facial.
All-in-One Complete Face Lift Collection includes 10 Products: You Only Pay $250 (Over 50% Off Retail Price).
Nefeli Gua Sha Facial Demo DVD - 45 minute Demo DVD

Gua Sha Board

A Comprehensive Handbook for TCM Facial Rejuvenation

2 Creams - Intensive Wrinkle Care Day & Night Creams

2 Creams - Intensive Bright Radiance Day & Night Creams

Skin Purifying Facial Wash

Pearl Exfoliator

Beauty Boost
With this collection of protocols and products,  you can address 1) dark spots, blemishes, acne scars and uneven skin tone and 2) sagging skin, fine lines and wrinkles while detoxifying, healing and purifying.