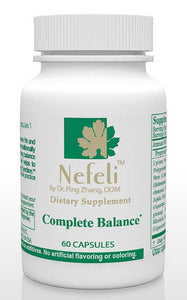 Daily Regime:
As a daily nutritional supplement take 1 capsule per day or as directed.

Our formula and claim are based on TCM texts and principles and the clinical practice of TCM practitioners.

100% natural. No preservatives.

Guaranteed quality. Pass US FDA guidelines. FDA registered.

It can be combined with other Nefeli nutritional supplements.It is a basic principle of Chinese medicine that health is the natural result of achieving balance in the body's yin and yang, the "Five Basic Elements" and the flow of the life force or energy known as "Qi". That principle is in every bottle of Complete Balance, a daily herbal supplement that enhances your body's own tremendous healing power. Complete Balance recognizes that true health can only come from the two words in its name "complete balance". If there is an imbalance, Complete Balance will support the body's immune system to restore it. Even in the absence of any disease, Complete Balance will strengthen and protect your body.

Complete Balance is uniquely designed to nourish and balance so that we may realize our whole potential and optimal health. The time-honored herbals are carefully selected and blended to achieve ultimate synergy and maximum potency to promote strength, bring balance to the body's overall internal system and help support the body's adaptogenic function. These herbals are rich in precious nutrients that are essential to our health. More importantly, the herbals embody ancient Chinese healing wisdom. Some outstanding examples of the herbs in this formula:

Ling Shi (Reishi Mushroom)
• A superior Chinese herb for calming the spirit, strengthening heart energy and nourishing the liver.
• A longevity herb that prevents aging and maintains healthy mental function and memory.
• Maintains the body's healthy immune system thanks to its nutrient content of high molecular weight polysaccharides. It also contains amino acids and vitamins.

Ren Sheng (Panax Ginseng)
• Fights fatigue and stress by rejuvenating the body's internal systems while improving endurance.
• Helps to maintain healthy heart, liver and immune functions. Relaxes the mind and promotes longevity.
• Contains panaxatriol, 17 amino acids, vitamins A, E and B2, niacin, and more than 20 different minerals.

Hong Jing Tian (Rhodiola)
• A powerful adaptogenic and anti-aging herbal that helps the body to increase both physical and mental stamina. It also supports the body's natural resistance to toxins.
• Greatly enhances the body's natural ability to shorten recovery time after prolonged workouts.
• Supports the body's normal healthy function to increase the attention span and improve memory.
• Loaded with free-radical fighting nutrients such as essential amino acids, trace elements, vitamins, and flavones.

Complete Balance is for you if:

You want to improve your overall health and well-being.
You have occasional episodes of the following due to deficiency conditions or the natural aging process of the body:

stress, fatigue or shortness of breath.
easily irritated or angered.
poor memory and thinking power.
insomnia, dream disturbed sleep or night sweats.
low will power or spirit.
constipation, indigestion or slow metabolism.
you want to erase the signs of aging such as the appearance of a dull complexion, tired eyes and sagging of the face.
Ingredients:
Lycium Fruit (Lycium barbarum), Poria (Poria cocos), Polygonatum Root (Polygonatum cyrtonema), Cistanche Stem (Cistanche deserticola), Rehmannia Root - cooked (Rehmannia glutinosa), Chinese Cuscuta Seed (Cuscuta chinensis), Fleeceflower Root (Polygonum multiflorum), Jujube Fruit (Ziziphus jujuba), Chinese Asparagus Root (Asparagus cochinchinensis), Ginseng Root (Panax ginseng), Reishi Mushroom (Ganoderma lucidum), Rhodiola Root (Rhodiola rosea), Ligusticum Wallichii (Ligusticum wallichii), Peony Root (Paeonia suffruticosa)
100% natural. No preservatives. No additives.