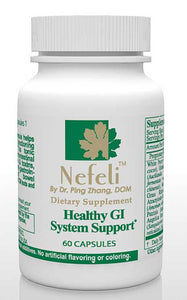 Daily Regime:
Our formula and claim are based on TCM texts and principles and the clinical practice of TCM practitioners.100% natural. No preservatives.Guaranteed quality. Pass US FDA guidelines. FDA registered.
TCM treasures a healthy digestive system as a "post-natal sea of energy." It is a key element of our life. It's considered a mother element of our body based on the ancient TCM "five elements". When the mother element is taken care of we believe the other body elements will benefit from it.
The medicinal sages in ancient times have devoted tremendous effort and research to the mother element. Hundreds of miracle herbals have been passed down to us through centuries to help practitioners restore their patients' healthy GI (gastrointestinal) function and promote the longevity of their lives. By TCM standards, GI imbalance not just comes from the digestive system but it encompasses almost all of the body's functional systems such as, to name a few, stress, trauma, state of the liver, gall bladder functions, etc.
A special combination of great herbals chosen by Nefeli in this formula work together to maximize the efficiency of the body's healthy mother element systems – the digestive system and its related organ systems -  to help the body maintain its healthy state. 
Healthy GI System Support helps to support the normal, healthy functioning of the digestive system, detoxifies the GI (gastrointestinal ) system of normal wastes & toxins and helps to ease occasional gastrointestinal discomforts and bowel irregularities.
A healthy GI system is key to a holistic and balanced well being.  The ancient sages taught us the superior healing power comes from not only the best ingredients but, most importantly, lies in the skill and the wisdom of the herbalist - Nefeli is a proud brand that has both! The key herbals in this unique and balanced  formulation are: 
Cang Zhu (Atractylodis Root)
•Strengthens digestion.
•Helps to ease occasional digestive discomfort.

Hong Teng (Sargetodoxa Vine)
•Clears heat, expel toxins.
• Helps support the body's natural ability to fight digestive normal wear/tear and the aging process

Ginseng (Panax Ginseng)
• Strengthens healthy digestive energy.
•Fights fatigue and stress by rejuvenating the body's internal systems while improving endurance.
• Helps to maintain a healthy heart, liver and immune function. Relaxes the mind and promotes longevity.
• Contains panaxatriol, 17 amino acids, vitamins A, E and B2, niacin, and more than 20 different minerals.
Healthy GI System Support is for you if:
You have 

occasional gastrointestinal discomforts.

You have occasional bowel irregularities.

You have low digestive energy or feel low energy overall.

You would want to detox and cleanse the GI system periodically.

Our formula and claim are based on TCM texts and principles and the clinical practice of TCM practitioners.
Ingredients:
White Peony Root (Paeonia  lactiflora), Poria Fungus (Poria  cocos), Ginseng Root (Panax  ginseng), Costus Root (Aucklandia  lappa), Medicated Leaven (Massa fermentata),  Coptis Rhizome (Coptis chinensis), Magnolia Bark (Magnolia officinalis), Nut Grass Rhizome (Cyperus rotundus), Atractylodis Root (Atractylodis lancea), Cardamon Seed (Amomum villosum), Pinellia Rhizome (Pinellia ternata), Patrinia Herba (Patrinia scabiosaefolio), Chinese Angelica Root (Angelica sinensis), Millettia Root and Vine (Millettia reticulata), Sargentodoxa Vine (Sargentodoxa cuneata), Sanguisorba (Sanguisorba officinalis)
100% natural. No preservatives. No additives.