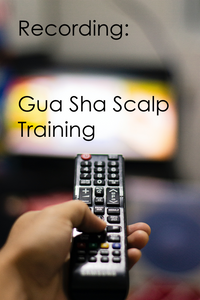 Watch Dr. Zhang's teachings on your own time! This is a recording of a previous live facial Gua Sha course. We will send you the link to view the video after purchase.
This 2 hr online training video course teaches participants step by step techniques for facial rejuvenation, including wrinkles, sagging of face and neck, age and dark spots, eye bags and dark circles by working on the scalp area based on Traditional Chinese Medicine meridian system. This course works great with the 4 hr Nefeli Gua Sha training video course as a comprehensive facial rejuvenation treatment package for the clients.
Please note that if you do not currently own a Nefeli jade stone board, you will need to add one to your cart as well. The product link is here. Please ensure your gua sha board is Nefeli's as the material is quality assured for clients. It has also been designed by Traditional Chinese Medicine principles: it has over 10 unique labeled and numbered curves corresponding to the course manual.
After ordering, we will email you within 3 business days with the link to view the Zoom recording. Upon completion, please email us back and we will send your certificate and manual. For questions, please contact us at service@nefeli.com.